Kayak Self-Support
From Rafting Grand Canyon
Jump to navigation
Jump to search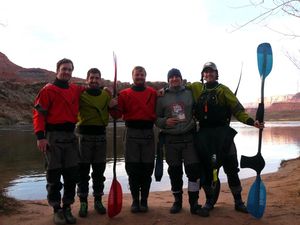 How about a run through the Grand Canyon on a self support trip in a kayak? Either alone or with a group, fast or slow, this is an option that serious self support kayakers may consider. The five gents on the right headed out for a 12 day Grand Canyon self-support kayak cruise from Lee's Ferry to Diamond Creek launching on December 23, 2014.
There are a number of on-line resources for self-support kayaking in Grand Canyon. Here are a few:
A whole crew of folks, including Chuck Joy, Jeff Redding, Woody Callaway, Boyce Greer, Jim Marsh, Will Lyons, Lisa Kloberdanz, Dave Kloberdanz, Ted Keyes, Brian Vandersand, Mike Hipsher, Kelly Fischer, Jeremy Mackey, and Neil Gibby, have put together a robust website about Grand Canyon kayak self-support here.
4 Corners River Sports out of Durango, Colorado, has put together a brief intro here.
A self support kayaker named John Nestler has put together a great page on how to go about it at his blog here.
A short film about a much faster cruise is here.
Click here to return to Watercraft page.