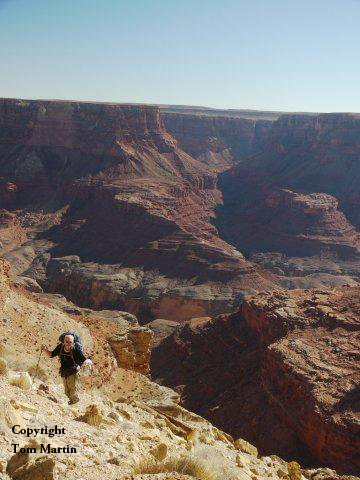 Grand Canyon National Park has started work on a Backcountry Management Plan and Environmental Impact Statement. The park's existing Backcountry Management Plan was completed in 1988 and needs to be updated to comply with current National Park Service laws and policies and the park's 1995 General Management Plan.
Development of a revised plan provides an opportunity to look at alternative management strategies for protecting park resources and values while providing for a variety of visitor experiences within the backcountry. Once completed, the revised Backcountry Management Plan will guide management decisions regarding the park's backcountry and wilderness resources into the future.
The Backcountry Management Plan covers topics like flotation assisted backpacking, the closure of the Deer Creek Narrows, and many other topics. River Runners for Wilderness submitted formal comments during the public scoping for the Plan in the summer of 2011. You can see RRFW's
2011 scoping comments on the Backcountry Management Plan by clicking here.
The public comment period for the Draft Backcountry Management Plan began November 23, 2015, and the comment period was extended for 30 days to give the public additional time to review the over 600 page DEIS document. Comments will be received for consideration by April 4, 2016.  In March of 2016, River Runners for Wilderness sent twenty pages of comments to Interior Secretary Jewell, National Park Service Director Jarvis, Havasupai Chairman Watahomigie, Superintendent Uberuaga, Senator McCain and Representative Kirkpatrick. RRFW's comments were sent to Secretary Jewell given that her office has direct responsibility for two Backcountry Management issues in Grand Canyon. These are Great Thumb access as defined by the 1975 Grand Canyon Enlargement Act and retaining Beaver Falls within Grand Canyon National Park as a part of that Act. You can see RRFW's
2016 comments on the Draft Backcountry Management Plan by clicking here.