June 24, 2022
During the week of June 20, 2022, approximately 15 feet of the North Wash Takeout ramp was swept away by the Colorado River. This ramp is used by river runners at the end of their river trips through Cataract Canyon.
The North Wash ramp was already notorious for its 45 degree slope. Now the ramp has a seven-foot-high cliff at the water's edge.
The Colorado River flows past the ramp location at a high rate of speed and additional bank erosion is expected in the immediate area both upstream and downstream of the ramp.
The North Wash access road, upper and lower parking areas, and lower loop road have not been effected by the riverside erosion.
River runners are still using the takeout, deriging their rafts just downstream of the actively eroding ramp area, and carrying their gear piece by piece 100 feet up the hillside immediately downstream of the now dysfunctional ramp.
Using 100 feet of steel cable, some groups are hauling their rafts up the hillside on rollers. The next takeout point downstream and across the reservoir is at Bullfrog and adds an additional 48 miles of travel. Some larger private tour company motorized snouts and 36 foot motor rigs are now motoring to the Bullfrog Ramp.
In their June 24, 2022 Weekly Low Water Update, Glen Canyon National Recreation Area mentioned the "primitive" North Wash Takeout, noting "River runners are advised the site is unstable and to exercise caution."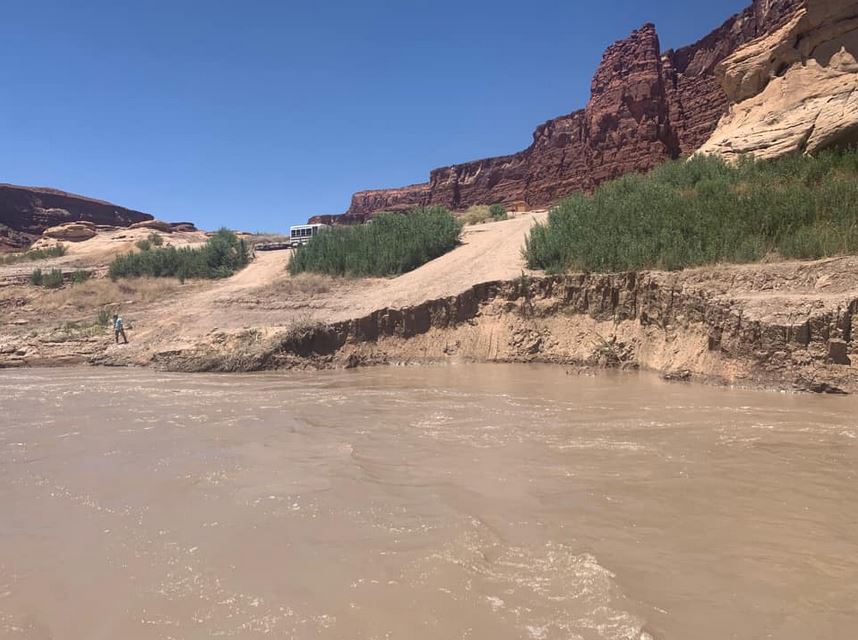 Photo of North Wash, June 22, 2022. Photo courtesy Anna Folks