In 2003, RRFW Riverwire reported that the normally tranquil waters of the Colorado River at the end of the Grand Canyon near Pearce Ferry, Arizona, were beginning to become turbulent near Pearce Ferry, the takeout for river trips traveling past Diamond Creek. Since then, the rapid has continued to form at this location.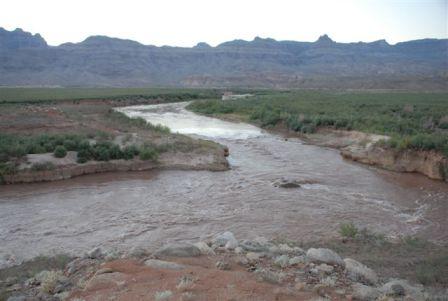 This reach of the Colorado River, just past the western boundary of Grand Canyon National Park, is controlled by the water level of Lake Mead. When the lake is near full pool, a large lake with no current greets river runners departing the end of Grand Canyon.
With the ninth year of drought continuing, the unusually low level of Lake Mead has caused the Colorado River to down cut into the sediment deposited in the upper reaches of the lake.
The river is now flowing with strong current near Pearce Ferry and no longer follows its historic channel of 70 years ago, before the waters of Lake Mead coveredthe area. The new channel is flowing over low gravel hills approximately one mile north of Pearce Ferry. The rapid is forming where the river is cutting through a saddle between two of these hills.
Pearce Ferry rapid has formed where the river makes a sharp ninety degree turn. A large rock sits in the middle ofthe rapid, with a strong eddy on the left side of the rock. A fast channel has developed on the river right side of the rock, and is the route of choice at this time for river runners.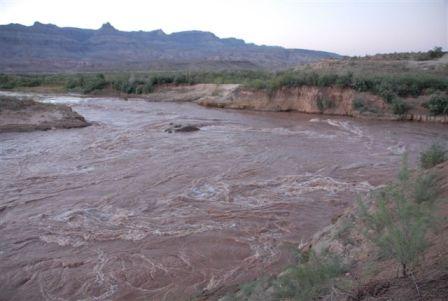 This rapid now poses a threat to river travel, as a boat could wrap on the mid-stream boulder. Night floating through this area is not recommended.
Concessions jet boats are still up-running this rapid with ease, but use the right channel and can not see approaching downstream traffic at thislocation. Jet-boats are sounding their horn as they up-run the rapid to warn downstream rafters of their approach.
This area has the potential to form amore serious rapid-possibly even a waterfall-as lake levels continue to drop, much as falling lake levels in Lake Powell formed the 15 foot falls at Paiute Farms on the San Juan River. The Fatt Falls waterfall renders the lower section of the San Juan River unrunnable. Projections are that Lake Mead will continue to drop for at least the next 8 months.
A more in-depth review of the formation of this rapid and its future difficulty may be found at the following web site, which is not affiliated with River Runners for Wilderness: