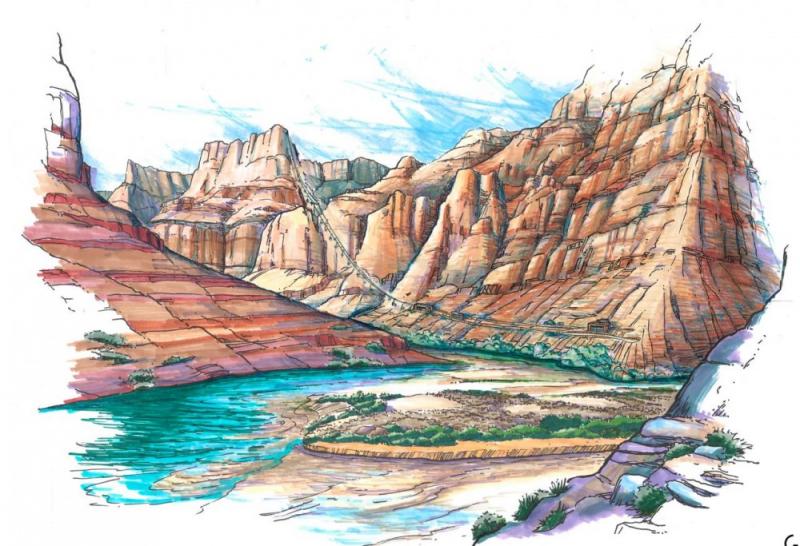 December 11, 2012
Imagine the anticipation of a visit to the stunning blue green waters of the Little Colorado River, but as you come around the bend you see...a tramway scarring the cliffside down to the Colorado River directly in front of you.
A proposal for development of a destination resort from the rim to the confluence of the Little Colorado River (LCR) with the Colorado River on the Navajo Nation would include hotels, an RV park, airport, restaurant and a tramway to the bottom of the Grand Canyon, 4,000 feet below.
In February 2012, a group of Phoenix developers, known as Confluence Partners LLC, signed a Memorandum of Understanding with representatives of the Navajo Nation to move the project forward. Named the Grand Canyon Escalade, the tramway and resort has generated a groundswell of opposition from some members of the Navajo Nation as well as neighboring tribes.
While development proponents outside the tribe and within it champion economic benefits of tourism revenue and jobs to the tribe, many of the local Navajo who graze livestock and have lived in the area for generations see it as a desecration of a sacred region. That sentiment was shared by families living in the neighboring communities of Bodaway, The Gap, and Cameron, Arizona, at several contentious meetings of those community chapters.
The Hopi Nation has long revered the confluence area as sacred ground as well. In October, the Hopi Tribal Council passed a unanimous resolution calling upon the people of Zuni Pueblo, the Navajo, the other tribes that hold the Grand Canyon sacred, the National Congress of American Indians, the Inter-tribal Council of Arizona, the All Indian Pueblo Council and the National Park Service, to join in opposing the tramway development. The Hopi are also seeking support for legislation to protect the Grand Canyon and other Native American sites.
Most of the proposed development site is situated within the boundaries of the Navajo Nation and also within an area designated as a Tribal Park (similar to a National Park) by the tribe and the National Park Service almost four decades ago. However, the boundary along the river corridor has been in dispute by the tribe and federal government since before the turn of the last century.
Tribal members opposing the development have established a group, Save the Confluence, and are encouraging anyone who opposes the development to sign an online petition. The petition to President Obama can be viewed at http://www.change.org/petitions/the-president-of-the-united-states-stop-plans-to-develop-the-grand-canyon. Please note that RRFW does not take positions on other causes featured at Change.org's website. Those interested in following the issue are also encouraged to visit the website at www.savetheconfluence.com and sign up for email alerts. 
River Runners for Wilderness will continue to follow this issue and update our readers through Riverwires and at our website.